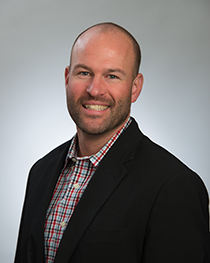 "We have but two ears and one mouth so that we may listen twice as much as we speak." -Thomas Edison
Put simply, this month's Homie Highlight is known for implementing solutions that work. By listening to feedback and suggestions from across the entire organization, he drives positive change every single day. In addition to being a strong leader, he is known for taking a single question or request and implementing it as a new companywide feature in record time!
Brandon Durham started with HFG in July 2015, so he is coming up on his 6 year Homieversary with us! In this time, Brandon has driven countless initiatives to help the organization develop and grow from the standpoint of both people and technology. As the Production Support Manager at our Scottsdale (Corporate), AZ location, he creates and facilitates the delivery of training and learning solutions to all employees across the country. Whether rolling out new technology platforms, hosting regular training sessions for both Sales and Operations staff, or launching the latest enhancements to HFG's mortgage process, he keeps the organization moving forward so we can continue to best serve our clients and partners.
Brandon also oversees the Training and Mortgage Support teams, leading the strategic direction of our LOS development efforts. Under his watchful eye, HFG was recognized as a Finalist in the Ellie Mae Hall of Fame, placing us among the best and brightest mortgage lenders that have distinguished themselves with their innovation. More recently, Brandon managed the development and launch of HFG Go, our new online mortgage platform designed to simplify the application and delivery of typical financial documents for a beautifully simple and intuitive experience. "Brandon facilitated two training classes per day for four weeks, supported the Mortgage Support ticket queue with his team, shared FAQs, and put in long hours to make sure everyone was prepared for new URLA and HFG Go," remarks President & CEO Bill Rogers.
Creative in his approach to New Hire Training, Brandon knows how to set the right tone from day 1 to ensure a successful onboarding experience for all new employees joining the organization. He not only provides great direction, but also has a sense of humor and makes everyone feel at ease immediately. All those involved know it will be a great class, learning and enjoying. Overall, it is clear that Brandon leaves a lasting impression on everyone he interacts with. "He's a great boss to work for," shares Maggie Provencher, Corporate Trainer. "He is very family oriented, believes in work/life balance and appreciates input from all to improve our lives."
Outside of work, Brandon personifies the family-oriented values of HFG by spending a lot of time with his wife Chandra, son Austin, two dogs, and one cat. The family enjoys making food in Austin's play kitchen together (Brandon's favorite breakfast that Austin makes is his pancake burger!), playing with monster trucks and cars, and kicking around the soccer ball in the backyard. You are also likely to find Brandon tuning into a Manchester United soccer match, a professional football club based in Old Trafford, Greater Manchester, England, as he is a huge fan. Although we are currently working remotely, Brandon has always been known for wearing a different pair of funny socks every day – and his wife says that not even one more pair would fit in his drawer!
Brandon's hard work and dedication to Homeowners Financial Group is apparent to anyone who works with him, from fellow employees to vendors to community partners. "Brandon is a hard-working and dedicated Homie, and working with him is truly a joy and an honor. I'm proud to call him my Homie Brother," confirms Margo Cobb, Marketing Designer. Ashlyn Pinter, HR Generalist, adds: "My motto here at HFG? Ask Brandon! Anytime I need to know something specific about how a process works or want to know more about something loan related, I know Brandon is my go-to person! He is so incredibly knowledgeable and always willing to drop what he is doing to help out a fellow Homie."
Brian Ruzycki, Chief Information Officer/Chief Technology Officer, sums it up: "Brandon is tireless in his work to keep loans flowing through the HFG machine. He's always creative in his approach and welcomes feedback to improve. His open mind and willingness to learn make other team members feel comfortable to collaborate and brainstorm with him." Thank you for all you do Brandon, and we can't wait to see where your knowledge and experience will continue to take us!
3 words that best describe Brandon: Doer. Committed. Wholehearted.
We are always looking for experienced professionals that are committed to serving the needs of borrowers while maintaining a corporate culture focused on family. If this is you, please contact us for more information on becoming a Homie: www.homeownersfg.com/careers